Student Piano Trio at Columbia University Faculty House
Friday February 28, 1:00 pm

-

2:00 pm

Free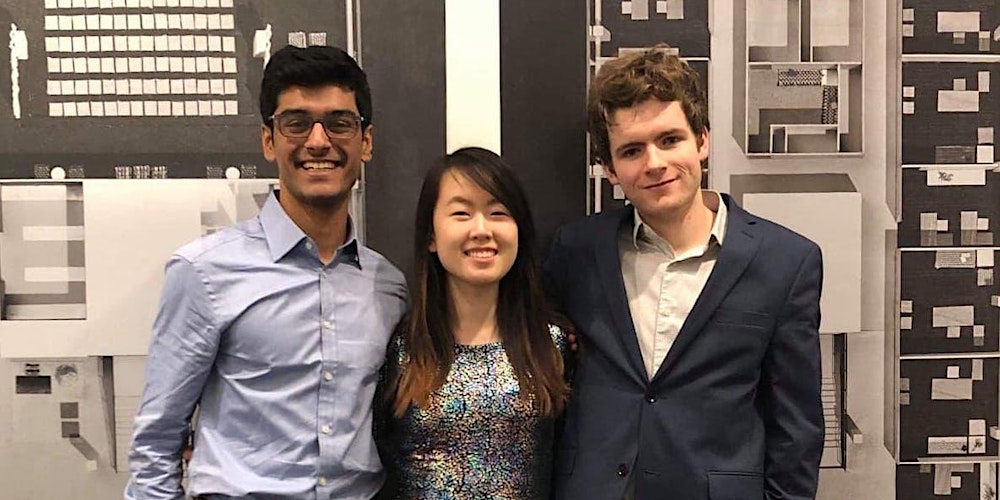 Columbia University's Music Performance Program presents a student piano trio in an afternoon of music!
Come join in the Garden Room at Faculty House, where Students and Music Associates from Columbia University's Music Performance Program will be showcased in an afternoon recital series. This concert features a student piano trio of Jenny Chen, violin, Jacob Austin, piano, and Juyant Subramanian, cello. Free and open to the public.
Program –
Maurice Ravel – Piano Trio in A Minor, 1915,
I. Modéré
Ludwig van Beethoven – Violin Sonata No. 9 in A Major, Op. 47, "Kreutzer",
I. Adagio Sostenuto
Astor Piazzolla – Grand Tango
Franz Schubert – Piano Quintet in A Major, Op. 114, "Trout"
I. Allegro Vivace
IV. Theme & Variations
with William Shamma, viola and Joseph Lee, Bass
About the artists –
Jennifer Chen is a violinist and a senior at Columbia University studying computer science. She started playing violin at age 8 and has placed in competitions in San Diego and California such as MTAC and VOCE, and was invited to perform at Carnegie Hall as a first prize winner of the American Protege International Concerto Competition. She has served as concertmaster of the Idyllwild Chamberfest Orchestra and the San Diego Civic Youth Orchestra, and has participated in the Aspen Music Festival. Currently, she studies with Stefan Jackiw on scholarship from the Columbia Dolan Prize. At Columbia, Jennifer has played in the Columbia University Orchestra, is avidly involved in chamber music, and is President of Columbia Classical Performers, an organization dedicated to promoting music on campus. Jennifer plans to continue pursuing both music and computer science by attending graduate school in computer science and performing music.
Jayant Subramanian is a senior in Columbia College studying Mathematics-Statistics and Computer Science. He has been playing cello since age 9, and has performed with various orchestral and chamber groups, including the Fairfax Symphony Orchestra and the Jefferson Quartet. He previously studied with Jungnim Cook in the Washington DC area. At Columbia, along with being involved in chamber music, he is a member of the Columbia University Orchestra and Columbia Pops. Post-graduation, Jayant hopes to continue playing cello while working in NYC as Machine Learning Specialist at Instagram.
Jacob Austin is a senior at Columbia University studying Computer Science and Mathematics. An accomplished pianist, he has won major competitions throughout the northeast, including the Bangor Symphony Concerto Competition and Bay Chamber Competition, and placed in the Ocy Downs and A. Ramon Rivera Competitions. He has performed with chamber music groups at the New York Youth Symphony, Manhattan School of Music, and Music Mountain, and performed at Carnegie Hall, Music Mountain, Apple Hill, and Kinhaven. Jacob currently studies with Reiko Uchida, and has studied with Nadine Bowder, George Lopez, Michael Skelly, and Julia Hamos. He has performed at masterclasses with Wolfram Koessel, Anne-Marie McDermott, Ray Chen, Frank Glazer, and others. At Columbia he performs with the Columbia Music Performance Program. After graduation, Jacob plans to continue playing chamber music while attending graduate school studying machine learning and computer science.