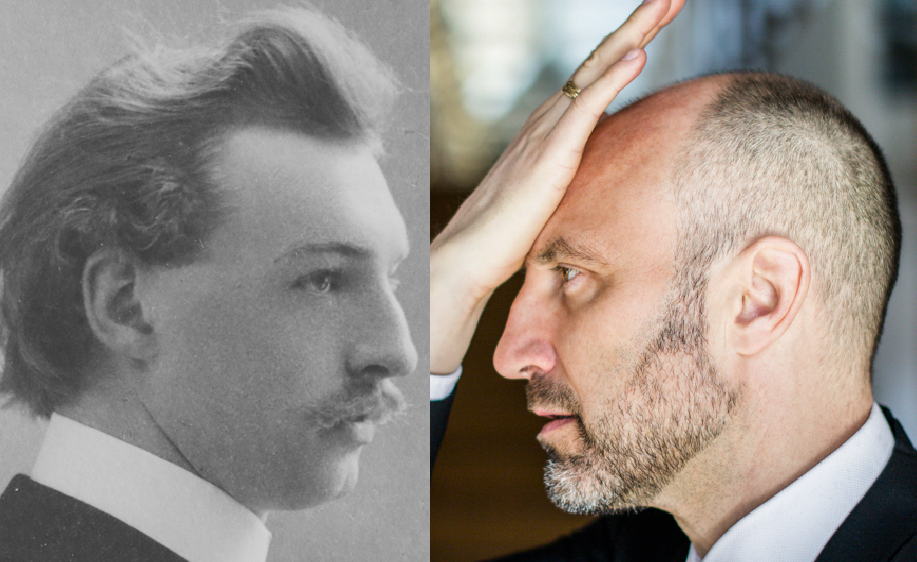 In 1911, two Symphonic Poems of composer Leopold van der Pals saw their world premieres at Carnegie Hall, framed by orchestral works of Wagner, Liszt, Mendelssohn, Tchaikovsky and Rachmaninoff. Now, 111 years later, another of Leopold van der Pals' works will see its world premiere. On November 10th, cellist Tobias van der Pals and pianist Pål Eide will be performing the work at Carnegie Hall.
In 2000, Tobias van der Pals was a twenty-two-year-old cello student in his first year at music conservatory in Copenhagen. In that year he found out about an archive in Dornach, Switzerland at which were stored works of the composer Leopold van der Pals, Tobias's great granduncle, who lived from 1884 to 1966. Traveling with his grandfather to the town where Leopold had lived the last decades of his life, they were granted access to the archive. There Tobias found a treasure: manuscripts of nearly all the composer's works.
An opera, songs, chamber music. Hundreds of piano works, including full sonatas. Plus, thirty two journals spanning the composer's entire writing life. Of particular interest to the young cellist were manuscripts of two four-movement cello sonatas (i.e., works for cello and piano), the first written when the composer was the same age as Tobias. Sadly, that manuscript was missing any markings for dynamics and bowing. Even more gutting, the last several pages were missing entirely, upending the possibility of publishing or performing the work.
But Tobias's energy was undiminished. Over the following two decades, poring over photocopies mailed him from the from the archive in Dornach, he continued studying and reviving the works of his forebear. In 2021, apparently realizing that Tobias was a worthy steward, the Swiss archive granted him semi-permanent custody of the collection. So Tobias trekked back to Dornach and transported the lot back to Copenhagen. Not long after taking possession of the archive, he found a box full of uncatalogued manuscripts that he had not been informed of previously. In the box he found several pages that had been categorized as belonging to an unknown work. But from his deep understanding of Leopold's work he quickly realized, and then confirmed, that these were the missing last pages of the first cello sonata! The missing pages in hand, Tobias resolved to do the work of adding dynamic markings and bowing notation and to arrange for publishing the score. All while mastering playing the piece. This process took over 18 months.
On November 10, we will be the beneficiaries of Tobias's commitment and diligence when we will hear the world premiere at Carnegie Hall of Leopold van der Pals' Cello Sonata No. 1 in D Minor Op. 5a.
Text © 2022 Victor Levy and pianyc.net. Unauthorized use and/or duplication of this material without express and written permission from this site's author and/or owner is strictly prohibited. Excerpts and links may be used, provided that full and clear credit is given to pianyc.net, with appropriate and specific direction to the original content.