Ligeti György 100th Celebration Concert at Saint Peter's Church
Friday September 29, 7:30 pm

-

9:30 pm

$30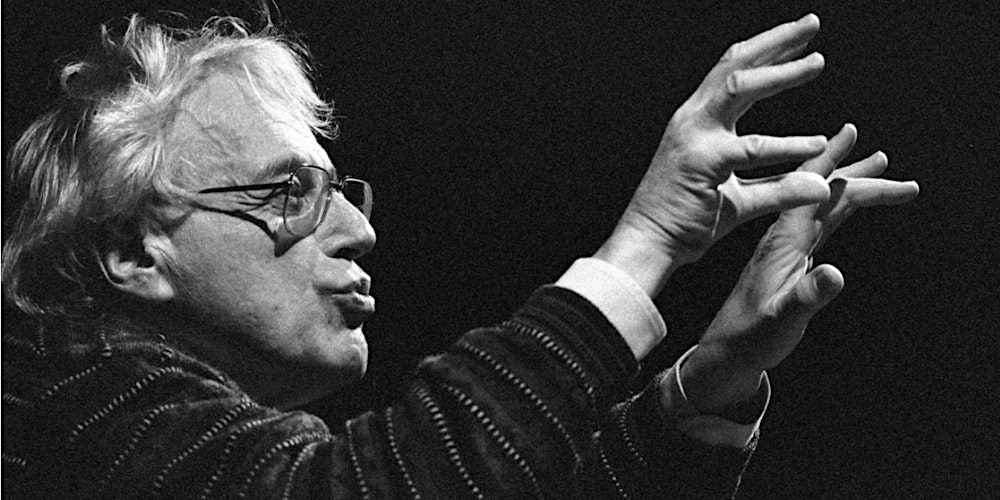 Saint Peter's Church is pleased to announce our upcoming concert in celebration of the 100th birthday of Hungarian Composer György Ligeti. Join for an exciting array of performances, with a discussion lead by Martin Bresnick, chair of the composition department of the Yale School of Music.
A former student of Ligeti, Bresnick will take us through some of the epoque-defining works by the composer with live music by internationally renowned concert pianist Lisa Moore. The concert program includes excerpts from the Musica Ricercata, piano etudes, Hungarian Rock, and early songs by the composer with guest singer Mária Lökösházi and organist Balint Karosi. For the full program, see here.
In collaboration with the Liszt Cultural Institute, we look forward to welcoming interpreters and composers to Saint Peter's, in celebration of the renovated Sanctuary and historic organ, and the life and work of a progressive, influential Hungarian composer, György Ligeti.
Ligeti 100 Concert Saint Peter's Church
Friday, September 29, 2023 | 7:30 pm
About the performers
Martin Bresnick was educated at the University of Hartford, Stanford University, and the Universität für Musik und darstellende Kunst in Vienna. His principal teachers of composition included György Ligeti, John Chowning, and Gottfried von Einem. Bresnick has taught internationally, including at the San Francisco Conservatory of Music, Eastman School of Music at the University of Rochester, and the Royal Academy of Music in London, among others.
Bresnick's compositions, from opera, chamber, and symphonic music to film scores and computer music, are performed throughout the world by leading symphonies, chamber groups, and festival ensembles. His music has been recorded and released by New Focus Recordings, Tall Poppies Records, Starkland Records, Cantaloupe Music, Composers Recordings, Inc., Centaur Records, New World Records, Artifact Music, and Albany Records, and is published by Carl Fischer Music, Bote & Bock, and CommonMuse Music Publishers.
At Yale, Bresnick teaches a studio of graduate students, and his works are often featured on the New Music New Haven concert series. During the summer, he is Director of the New Music Workshop at the Yale Summer School of Music/Norfolk Chamber Music Festival.
Lisa Moore is a multifaceted Australian pianist, recording artist, and avid collaborator. The New York Times has singled out her playing for its "life and freshness" and "fragility and tenderness", The New Yorker describes her as "visionary" and "New York's queen of the avant-garde piano" while Pitchfork claims "she's the best kind of contemporary classical musician, one so fearsomely game that she inspires composers to offer her their most wildly unplayable ideas". Given her passion for the music of our time, Moore won the silver medal in the 1981 Carnegie Hall International American Music Competition and has since performed hundreds of new, commissioned works and world premieres. She has worked with more than two hundred living composers, while residing in the vibrant new music scene of New York City since 1985.
Moore has released 12 solo albums, ranging from Leoš Janáček to Elena Kats-Chernin. In June 2022, to compelling notice, Moore released her second album of music by Frederic Rzewski – no place to go but around. The New York Times remarked the album is "meticulous, clever, and hits the gas with controlled force" with "a greater range of emotion than other interpreters." Moore has released over thirty collaborative discs. Her record labels include Cantaloupe Music, Tall Poppies Records, Orange Mountain Music, Irreverence Group Music, Bandcamp, Sony Classical, Nonesuch Records, Deutsche Grammophon, BMG, New World Records, ABC Classics, Albany Records, New Albion, Starkland, and Harmonia Mundi. Moore has performed throughout Europe, the UK, USA, and Asia on many of the world's great stages, including Carnegie Hall, Lincoln Center, Sydney Opera House, La Scala, Royal Albert Hall, and the Musikverein. She was the founding pianist (92-08) for the ground-breaking electro-acoustic sextet Bang On A Can All-Stars, winning the 2005 Musical America Ensemble of the Year award. Moore has collaborated with leading artists and ensembles, including Philip Glass, Meredith Monk, Ornette Coleman, Thurston Moore, Iva Bittova, Bryce Dessner, Don Byron, London Sinfonietta, Steve Reich Ensemble, New York City Ballet, Sydney Symphony Orchestra, American Composers Orchestra, and The Chamber Music Society of Lincoln Center. Lisa Moore is a Steinway artist. For more information, see www.lisamoore.org.
Viktória Sarkadi is a Hungarian collaborative pianist. She has earned her bachelor's and master's degree in performance at The Royal Conservatoire of Scotland(RCS), and upon graduating, she became Collaborative Pianist at The University of Edinburgh's music department. As a chamber musician, she has performed in venues across Europe and the UK, and is regularly appearing in competitions alongside singers and instrumentalists, as well as in special events, notably, a celebratory concert for Classic FM's 25th anniversary in the presence of HRH King Charles, and Members of the Parliament's visit to The RCS. She has worked with the charity organization Live Music Now, aiming to bring live music to people of vulnerable groups, including people in hospitals, hospices, care homes. She is passionate about making music accessible outside of traditional spaces. From 2019, she is co-artistic director and chamber music coach of the Allegro Summer School in Hungary, an annual short course introducing the early experiences of chamber music to children aged 9-18. Viktoria is currently in her first year as Collaborative Piano Fellow at Bard Conservatory.
Mária Lökösházi is a hungarian soprano. She graduated from the Liszt Ferenc Academy of Music with a Masters degree in Oratorio and Song Performance under Prof. Júlia Pászthy in 2021. From 2018 she was awarded an artistic scholarship by the Hungarian Academy of Arts, thanks to she has the opportunity to perform in several recitals and concerts. Her performing art covers all musical periods from early music to contemporary works. She is currently a doctoral student at the Liszt Academy of Music. She has been a finalist and the recipient of a special prize in the Art Song category at the 2022 Triomphe de l'Art International Voice Competition.
Bálint Karosi has been Cantor and Director of Music, Classical, at Saint Peter's Church in Midtown Manhattan since 2015. After winning the 2008 Bach Prize in Leipzig, Balint has been in demand as a recitalist and clinician worldwide, known for the interpretation of Bach's music and his Baroque-style improvisations. His recording portfolio includes three albums by Hungaroton, including his original orchestral works, and thirteen albums of the complete works for organ by J. S. Bach. Balint has recently joined the faculty of the Organ Department at the University of Michigan, where he will be teaching organ literature, church music and improvisation, starting August 2023.
Dr. Karosi's compositions include the reconstruction of Bach's lost St Mark's Passion for Saint Peters, four organ concerti, two operas, cantatas, choral, orchestral, and instrumental works. His eight volumes of organ works are published by the Leupold Foundation. His Toccata in Memory of Bartók was the compulsory work for the 2022 NYACOP competition, his Kodály Triptych won the first prize of the Hungarian Philharmonia's 2022 composition competition, and, in 2023, his organ concerto Syöjätär has been awarded the Kaija Saarijaho prize and the prize of the Finnish National Composer Award in Helsinki, Finland.
Bálint has studied at the Liszt Academy in his native Budapest, Hungary, the Conservatoire Superieure in Geneva, Switzerland, and at the Oberlin Conservatory in Ohio. He earned his DMA in composition at the Yale School of Music in 2017.