Horszowski Trio: Chamber Music by Village composers at Tenri Cultural Institute
Saturday September 23, 7:30 pm

-

9:00 pm

$25 – $30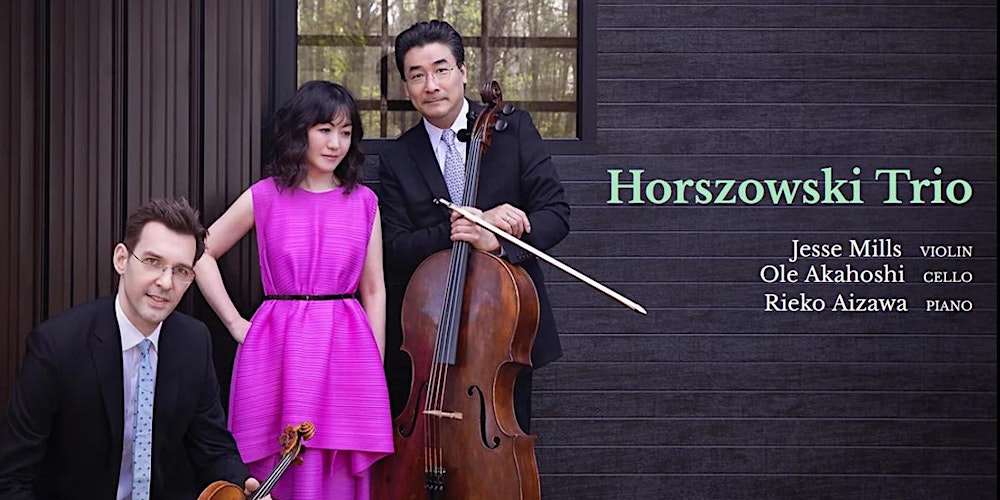 The celebrated Horszowski Trio presents music primarily of composers who have lived in and around Greenwich Village over the past six decades. Village residents Elliott Carter, Paul Chihara, Louis Karchin and Wang Jie are represented by recent works, performed alongside Dmitri Shostakovich's landmark Second Trio. The Horszowski Trio (Jesse Mills, Ole Akahoshi and Rieko Aizawa) has been described as "eloquent and enthralling" by the Boston Globe and heralded as "the most compelling group to come on the scene" (The New Yorker). The Trio made its London debut in 2019 at a sold-out concert at Wigmore Hall, and has toured throughout America, Europe and the Far East.
Elliott Carter wrote his Epigrams for Piano Trio in 2012 at age 104; it is his very last completed work, capping a career of astounding fluidity and longevity.
Paul Chihara's Dragonfly Fantasy was commissioned by the Horszwoski Trio and is based on a well-known children's song in Japan, Aka Tombo, one of the most popular songs in Japan today.
Louis Karchin's Trio for violin, cello and piano, written for both the Horszowski and Fidelio Trios, is a three-movement work that blends new harmonic ideas with cherished traditions of the genre; it receives its NY premiere at this concert.
Wang Jie's evocative Faded Colors is based on the Mexican hymn "De Colores": the colors of people who know freedom. Her recasting takes a "black and white" nostalgic approach, complementary to the song's original nature.
Shostakovich's four-movement Trio #2 (1943) alludes, in its final movement, to Jewish melodies, reflecting Shostakovich's concern and horror at rumors of the Holocaust, and was written against the background of the Second World War.
The Horszowski Trio
Jesse Mills, violin
Ole Akahoshi, cello
Rieko Aizawa, piano