Alessandro Martire Live in New York at The Sheen Center for Thought & Culture
Sunday November 12, 7:00 pm

-

8:30 pm

$66.65 – $116.73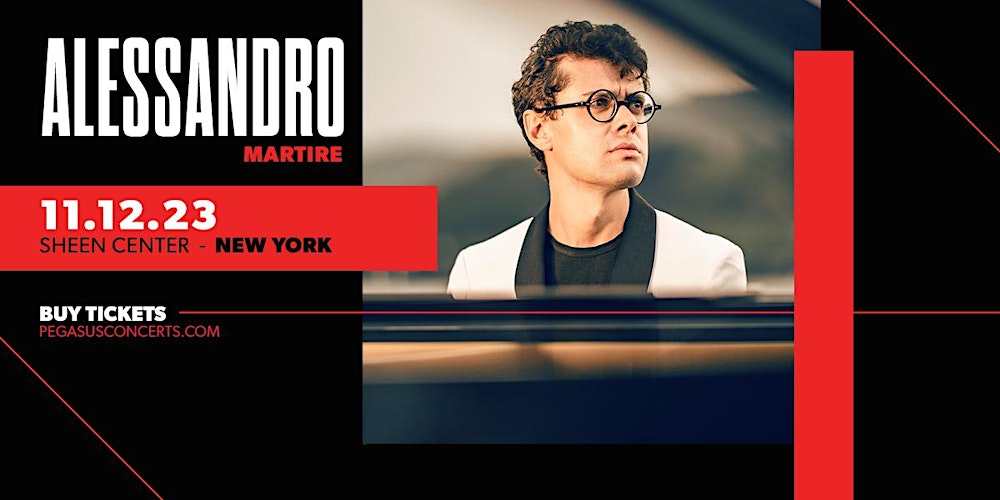 Immerse yourself in the extraordinary young talent of Alessandro Martire, the internationally acclaimed Italian pianist and composer. Born in Como, Italy, Alessandro's musical journey began at the age of 11, and his passion for the piano blossomed into a unique fusion of contemporary classical music enriched with elements of pop, minimalism, and crossover genres.
By the age of 15, he had already written his first piano compositions and his remarkable compositions and captivating performances have enchanted audiences around the world. Under the guidance of Maestro Giusto Franco, he refined his skills, and in 2012, Alessandro pursued a specialization in new age composition at the prestigious Berklee College of Music in Boston.
Alessandro's musical endeavors have taken him on a whirlwind of global tours, including the Melodia di Vita World Tour in 2013, the Da Sempre in Tour in 2015, and the Flames of Joy Tour in 2016. With each performance, he has graced renowned theaters and concert halls in Europe, Russia, Asia, and America.
While his concert career soared, in 2016 he also obtained a degree in International Relations from the University of Milan, showcasing his commitment to a broader understanding of the world.
Alessandro's talent and artistic vision attracted significant recognition from the music industry: in 2018, he signed a significant publishing agreement with the renowned Ultra International Publishing in New York.
In 2019, his unique creative vision has led to the development of groundbreaking concert formats: he introduced the Floating Waves Concert, an enchanting experience held on a floating platform amidst the breathtaking waters of Lake Como. This one-of-a-kind spectacle showcases Alessandro's mastery of Waves, the first world's curved piano which he invented with the collaboration of local Italian artists, and his ability to create unforgettable musical moments in extraordinary settings. In the same year, he founded the Lake Endless Joy Festival, to revitalize the Como area through international cultural initiatives.