Margarita Rovenskaya & Xiao Chen, Piano at St. John's in the Village
Saturday December 1, 2018, 3:00 pm

-

4:00 pm

$10 – $20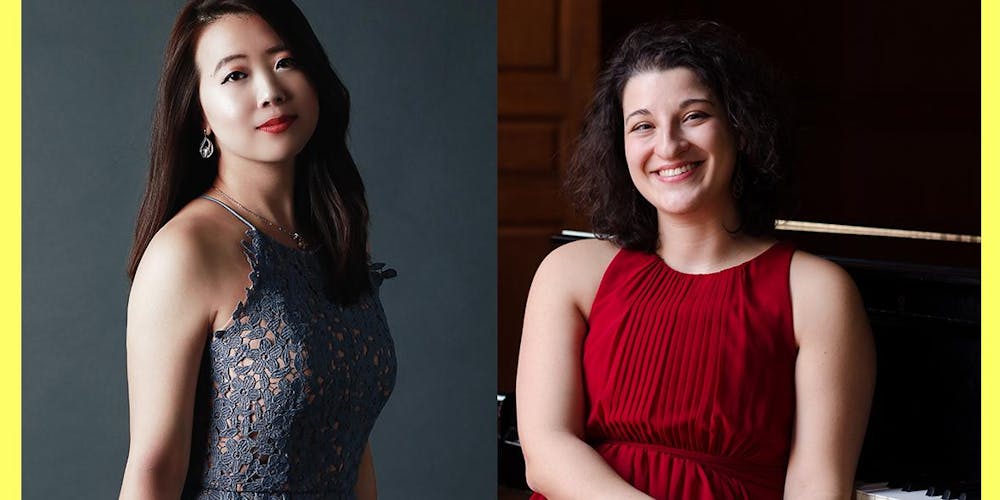 "BACH TO THE FUTURE" CONCERT SERIESA SUNDAY SERIES OF BEAUTIFUL MUSIC IN THE VILLAGE!
Attend individual concerts for inspiration every Sunday afternoon — or, subscribe to our series, to support the work of the Foundation for the Revival of Classical Culture; Its "Bach To The Future" Music/Science Program for Students; and the new Foundation for the Revival of Classical Culture Youth Chorus. Accepting new student applications for the chorus — ages 12 to 18! http://www.ffrcc.org! To Subscribe: https://www.ffrcc.org/bach-to-the-future-page
ARTIST: Margarita Rovenskaya & Xiao Chen, piano
PROGRAM: 
Schubert Fantasia in F minor for piano four hands D940
Rachmaninoff 6 Morceaux for four hands, Op. 11
Chopin selections
MEET THE ARTISTS:
Margarita Rovenskaya
Pianist and avid chamber musician Margarita Rovenskaya has performed extensively in the US and abroad, with solo and chamber recitals in venues such as Weill Recital Hall in Carnegie Hall, Steinway Hall. Winner of the Mary Smart International Concerto Competition, Westminster Piano Concerto Competition, Connecticut Young Artist Competition, and American Fine Arts Festival, Ms. Rovenskaya is based in New York City. She is co-adjunct faculty at Rutgers University, served as Adjunct Piano Instructor at New York University, and is currently piano faculty at several studios and schools in NYC.
Ms. Rovenskaya especially enjoys chamber music, and has collaborated with internationally acclaimed artists. In summer of 2013, she also performed in Vermont as part of the six-week Manchester Music Festival chamber series. In the summer of 2015, Margarita was Piano Fellow at the Heifetz Institute, where she coached and performed chamber music. Ms. Rovenskaya has performed several trios in Weill Recital Hall at Carnegie hall as a winner of the Chamber Music Prize at the American Festival of Fine Arts. Ms. Rovenskaya's solo performances include international venues at the Sulzbach-Rosenberg International Music Festival in Germany, the International Academy of Music at Castelnuovo di Garfagnana in Italy, as well as festivals such as the Summit Music Festival, PianoSummer at New Paltz, Beethoven Institute at Mannes, and Round Top Festival Institute. In the summer of 2014, she ran the international Summit Music Festival as General Manager, where she also performed both solo and chamber music
Born in Ukraine, Margarita Rovenskaya began studying the piano at the age of six in Chicago. She is earned her Bachelor of Music in Piano Performance at Oberlin Conservatory in May 2012, her Masters in Piano Studies with Eteri Andjaparidze at New York University in May 2014, and is currently earning her Doctorate of Musical Arts at Rutgers University. Her teachers include Efrem Briskin, Peter Takacs, Eteri Andjaparidze, and Vladimir Valjarevic.
Xiao Chen
Chinese-born pianist Xiao Chen is actively engaged as a solo and chamber musician. She received her master's degree from The Juilliard School and doctoral degree from University of California, Los Angeles. Ms. Chen is a frequent recitalist and concert artist throughout the U.S., China, and Europe. She has performed concerts in Carnegie Hall, Fisher Center for Performing Arts, and Shanghai Concert Hall. Her solo recital in Shanghai Concert Hall was well received and interviewed by Shanghai Youth Daily ("Her energetic, exquisite, breathtaking performance…impressed the audience"). Peninsula Reviews also praises her playing as "knock-out performance, and one we would love to hear again." Her performance of Rachmaninoff's second piano concerto with UCLA Symphony was the highlight of the concert season.
She is the prize winner of many competitions including The American Prize, Frances Walton Competition, Carmel Music Society Piano Competition, American Protege International Competition, The Muse International Competition, , 'London' Grand Prize Virtuoso International Music Competition, and Steinway & SonsInternational Youth Piano Competition China Regional Competition. As a winner of Frances Walton Competition, she played a concert tour in Washington State and performed a solo piano program on radio live broadcast concert at Classical KING FM 98.1. She serves as jury in many music and piano competitions, including "PearlRiver Keyserburg" International Youth Piano Competition and Hainan Airline Piano Competition. She has been also invited to record for Yamaha's Disklavier Educational Network and Scott Joplin Piano Works Archive.
Ms. Chen received her Doctor of Musical Arts degree under Inna Faliks from University of California, Los Angeles. She obtained her Master of Music degree at The Juilliard School in New York, where she studied with Jerome Lowenthal. She attended Bard College with a double major – Receiving a Bachelor of Music degreein Piano Performance from Bard College Conservatory of Music, and a Bachelor ofArts degree in Language and Literature from Bard College. She studied with Melvin Chen at Bard.
M. Chen has been invited to perform in numerous music festivals including The Morningside Bridge Summer Festival, Yellow Barn Music Festival, Pianofest Summer Festival, Aspen Music Festival, Manchester Music Festival, and Italy Perugia Music Fest. Over the years, she has worked with such renowned pianists as Gary Graffman, Seymour Lipkin, Yoheved Kaplinsky, Richard Goode, Peter Frankl, Claude Frank, Wu Han, Ann Schein, Paul Schenly, Joseph Lin, Vivian Hornik Weilerstein, and Shanghai Quartet.Additionally, Ms. Chen has appeared in outreach tours. Last year, she went to 20 schools in Washington States and performed for more than 2000 students. She also often collaborated with Education Through Music – Los Angeles and taught in different schools. In addition, as part of UCLA Gluck Ensemble, she has performedin numerous schools and senior centers in Los Angeles.
Ms. Chen is also an experienced and artistic teacher. She has taught undergraduate piano performance students, as well as piano for students majoring in music education and composition at UCLA. In addition, she successfully presented a two-hour lecture on "Art of listening" in Schoenberg Hall.
To Subscribe and attend all concerts: https://www.ffrcc.org/bach-to-the-future-page