Antare: Theatrical Piece with Live Piano, Feat. Arash Behzadi
Monday June 19, 2017, 7:00 pm

-

10:00 pm

$25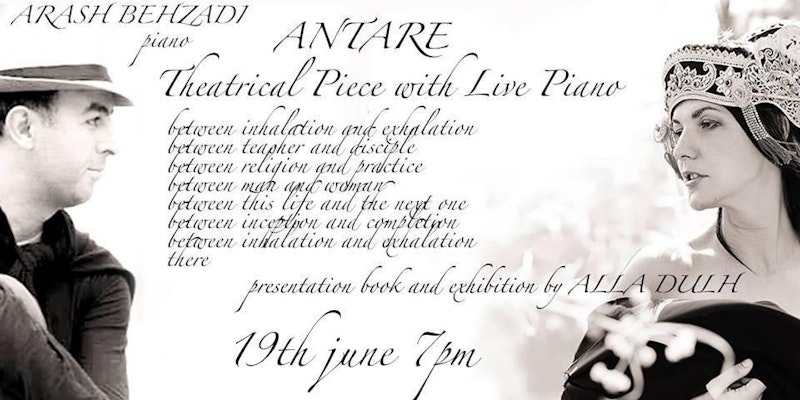 Midtown Art Design & Fashion Center is pleased to present "ANTARE," a theatrical piece with live piano about the space between a man and a woman, composed by Alla Dulh and Arash Behzadi.
Alla Dulh (artist)
Alla was born in 1983 in St. Petersburg, Russia. She has exhibited her artworks in solo and group exhibitions globally. She's been painting for nine years already and during this time her work's been exhibited at the Museum of Contemporary Art of ERARTA, in the bastion of the Petropavlosk Fortress(museum of history St-Petersburg), in the Museum-estate of Roerich in Nagar, in a special projects on the 5th Moscow Biennale and in numerous private galleries around the world. She currently lives and works in Bali, Indonesia.
Arash Behzadi (piano)
Arash has a Iranian-American background, and if one were to single out one defining phrase to describe the composer/pianist extraordinaire, it would be "expect the unexpected. "Whether performing in the middle of the frozen Lake Simcoe, the World Trade Center Club in Dubai, in pouring rain in Geneva or amid the charming cobbled streets of Toronto's famed Distillery District during the Pan Am Games, Arash intuitively understands how to captivate audiences young and old. It's not uncommon for people to be moved to tears. Children listen with rapt attention. "I pour my emotion into the ivory," Arash adds. "I want to make music that lasts, that moves people, that is universal."
Welcome to our space "In between"
Where you cry and laugh
Where you pray and experience silence
Where you breath in and breath out
Where the art, religion and knowledge all meet
Where the piano connects you to your deeper self
Where the painting looks at you deeply
Where you whirl and stand still on the same spot
And you find the answer at the end of the journey.
After the theatrical piece, there will be a live conversation with the artists.